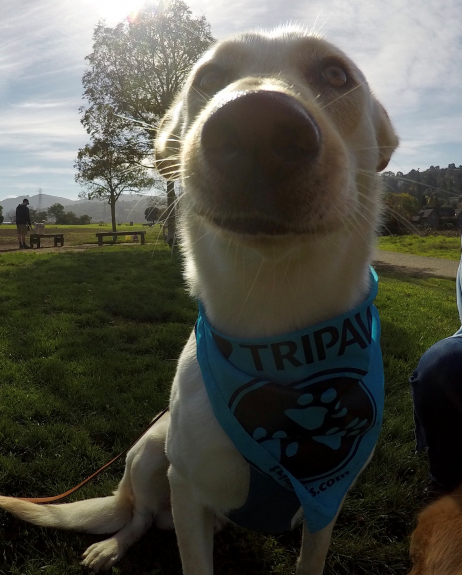 Howdy, Dusty dog here, a couple of weeks ago Shelby and I went to the vet to get shots in the butt and to test her poop. Don't ask me why, cause I don't know. It's always an adventure going anywhere with Shelby! People always notice us when we're together. I thought it was because she's so pretty and I'm not too hard to look at, they notice us because we're both Tripawds!
When we got to the vet, mom went in to drop off Shelbys poop and let them know we'll wait outside the front door. It wasn't a minute later when one of Shelby's and my friends came outside crying. She hugged mom and dad and told them that her handsome dog was having emergency surgery and she was very, very worried and scared. She told us he had surgery in December and something was wrong again. Just then the vet tech lady came out and and gave us our shots and free treats! Shelby loves treats, I mean, she really loves treats.
We followed Mary back inside to the waiting area where her husband was seated. Shelby and mom sat on the floor, dad and I sat next to them. She knew all about Shelby being a Social/Therapy dog and that someday I wanted to be one too. Mary told us her dog was in training to be a search and rescue dog, and had done very well in mock searches. You could hear and see how proud she was as she told us the story. The whole time Mary was talking she was either petting Shelby or me. She seemed happier when she was petting one of us, more relaxed and fewer tears.
After awhile no one was saying much, we were just hanging with our friends. Mom asked if we could get them some lunch while they waited, dad said there's a great burger place down the road, Sequoia Burger. They said, we know exactly where you're talking about, but no thanks, they were good.
We got up to say goodbye and Mary told mom and dad how much they appreciated having a visit from Shelby and I, it really helped them to get through a pretty tough time. Initially we had planned to be at the vet for 15 to 20 minutes then we were headed to Sequoia Burger for lunch. We had been there for about 90 minutes.
We started out just going to the vet and then to lunch, but our friends needed some help. We were so happy we could be there for them, it was the most importent thing we did that day.